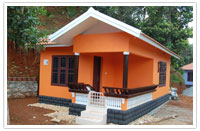 If Wayanad is a traveller's 'dream destination', a stay at the Vythiri Homestay is essential to make the feel of the dream complete. Situated in the Western Ghats, at 700 to 2100 meters height from mean sea level, the green district with its jungles still unexplored, the vast coffee plantations, the prehistoric remnants of cave men lived in the Neolithic Age, a wide variety of flora and fauna, pristine nature and less commercialised tourism industry presents the right ambience for a tourist.
The dew drenched valleys, mist clad mountaintops, enchanting waterfalls, labyrinthine trekking forest routes beckons thousands of tourists to the lap of this green paradise. Interestingly, the fame of this 'Nature's Land' which passed from mouth to ear, crossing borders and barriers made more than 6 lakh tourists seek refuge into the lap of greenery, last year alone.
So don't miss the chance. Come and enjoy your holidays in Wayanad and make it complete with a 'Vythiri touch'.